Eshé P. Collins is new director of the Equity Assistance Center-South at SEF
NEWS RELEASE – October 12, 2023 – Contact: Alan Richard, arichard@southerneducation.org or (202) 641-1300
ATLANTA— The Southern Education Foundation is pleased to announce that Eshé P. Collins is the new Director of the Equity Assistance Center-South (EAC-South). This center provides equity-focused assistance and training to public school districts and other governmental agencies to promote equitable education opportunities.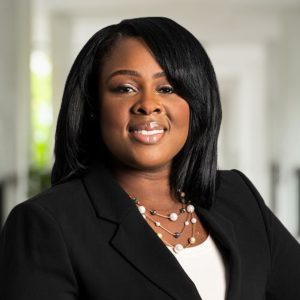 An experienced civil rights attorney, nonprofit leader, and former classroom teacher, Collins officially joined the EAC-South in August after 12 years with Jumpstart, a non-profit organization that works with communities and organizations to provide high-quality early education for children nationwide.
She now leads the EAC-South, which serves public school districts and education agencies in 11 states and the District of Columbia in addressing long-term disparities in students' educational opportunities.
"Eshé's leadership on many different fronts makes her the right choice to lead the work of the EAC-South," SEF President and CEO Raymond C. Pierce said. "The EAC-South's work with school districts, especially those still under desegregation orders, deserves an experienced leader, public servant, and former educator who can connect with many different communities."
The U.S. Department of Education awarded SEF a five-year grant last year to become the new home of the EAC-South. The center provides school districts and state education agencies with expert services, professional development, and additional resources to address education disparities in the areas of race, sex, religion, and national origin.
"I'm honored to lead the EAC-South and its critical work addressing deeply-rooted educational inequities in the South. The EAC-South's impact will become part of SEF's storied history and its expanding role in helping improve education for all children," Collins said.
Collins has also served on the Atlanta Board of Education since 2013, where she is the board chair. Earlier in her career, she served as a judicial clerk for the Honorable James A. Wynn Jr. on the North Carolina Court of Appeals and as a policy analyst for the Children's Defense Fund in Washington, DC.
Collins holds a bachelor's degree from Spelman College in Atlanta and a master's degree in educational leadership from Georgia State University. She is a cum laude graduate of the North Carolina Central University School of Law in Durham, NC.
She is a member of Harvard University's Public Education Leadership Project, Leadership Atlanta, and the Georgia Partnership for Excellence in Education's Education Policy Fellowship Program. Georgia Trend, Atlanta Business Chronicle, and Georgia State University have named her to their "40 Under 40" lists of prominent leaders in the region.
For more information, contact SEF communications.