Georgia HBCUs could make even greater impact with right focus from leaders, legislative study committee finds

Feb. 9, 2023 – Contact: Alan Richard, arichard@southerneducation.org, (202) 641-1300 
ATLANTA ⎯ Georgia's historically Black colleges and universities (HBCUs) could be transformed into even stronger centers of education and economic opportunity with the right state support, a state legislative study committee has found.
The Georgia Senate Study Committee on Excellence, Innovation, and Technology at HBCUs officially released its final report and detailed recommendations at a news conference at the state Capitol today. 
Chaired by state Senator Sonya Halpern (D-Atlanta), the study committee developed the recommendations for state lawmakers to position HBCUs as stronger catalysts for diversifying the state's workforce, driving more innovation and economic impact, and anchoring community and economic development around their campuses.
Among the key recommendations are the establishment of a bipartisan HBCU Caucus consisting of state senators and House members, plus permanent HBCU subcommittees within both chamber's higher education committees, to provide a greater focus on the institutions. 
"This is an opportunity for Georgia to become the nation's leader in how states fully support HBCUs and maximize their economic and social impact for their graduates and surrounding communities," Sen. Halpern said.
The Southern Education Foundation (SEF), a 155-year-old nonpartisan organization, presented a number of detailed recommendations at the study committee's inaugural hearing last August on how the state could bolster support for HBCUs. Early in its history, SEF provided support for the development of many HBCUs in the South, including the institutions that became Clark Atlanta University and Spelman College.
"HBCUs play a vital role in Georgia and many southern states as centers of learning, community, and opportunity," said Raymond Pierce, the SEF president and CEO. "These recommendations set a new, ambitious agenda for how the state of Georgia can help HBCUs thrive even more, benefiting students and communities across the state and setting an example for many other states to follow."
Public and private HBCUs in the state enroll more than 20,000 Black undergraduates each year and award 23% of all bachelor's degrees earned by Black students. These HBCUs also make an estimated $1.3 billion in economic impact across the state each year.
Last summer and fall, the Georgia committee heard presentations and testimony from HBCU presidents, business and economic development leaders, and nonprofit and advocacy organizations and HBCU leaders. 
Georgia's 10 HBCUs already help students succeed in college and graduate at higher-than-projected rates based on the institutions' history of underinvestment, lack of sizable endowments, and the academic backgrounds of many students they serve. 
Testimony in the committee hearings provided guidance on issues the study committee wishes to pursue that can help Georgia HBCUs build on their success toward stronger institutional growth and sustainability in areas such as improving facilities, faculty and staff capacity, technology, research capacity, student aid, endowments, pathways for expanding industry, and community connections. 
Among the study committee's recommendations during the 2023 Georgia General Assembly: 
Establish a bipartisan state HBCU Caucus of House and Senate members to discuss policies, budgets, programs, and other issues for Georgia's HBCUs. Modeled on the U.S. Congressional Bipartisan HBCU Caucus, the state caucus would work with HBCU presidents and other partners to maximize investments, modernize campuses, increase student success, and improve economic conditions in HBCU communities.
Create HBCU Subcommittees within the Senate and House Higher Education Committees to consider and adopt legislation on HBCUs and their surrounding communities. 
Pass legislation to launch HBCU Innovation & Economic Prosperity Planning Districts, engaging communities, state and local governments, federal agencies, and private and philanthropic interests to support HBCUs in the state. The planning districts could help strengthen HBCUs and their surrounding communities through ideas such as:

development of housing for students and families and sites for local businesses on HBCU-owned property.

upgrading broadband capability at HBCUs and surrounding communities.

modernizing technological infrastructure.

Produce regular public reports on Georgia's HBCUs: Encourage HBCUs to commission a third-party entity to publish a biennial HBCU snapshot report detailing how each state agency interacts, supports, and funds each public and private HBCU and minority-serving institution in the state. The state could benefit from independent analysis of its support for HBCUs and efforts to help institutions build on their success. The report would be submitted biennially to the General Assembly, governor's office, and the University System of Georgia.
Additional recommendations include: Investing in and incubating small-business development in HBCU communities; environmental upgrades such as protecting and adding to the tree canopy, preserving greenspace and waterways, building bike lanes and walking paths, and encouraging urban farming; and workforce development centers in partnership with HBCUs to provide local residents training for emerging industries in which Black workers are underrepresented. 
Founded in 1877 to educate Black children and children from low-income families in the South, the Southern Education Foundation continues to work for greater opportunities for all students. SEF is based in Atlanta, Georgia.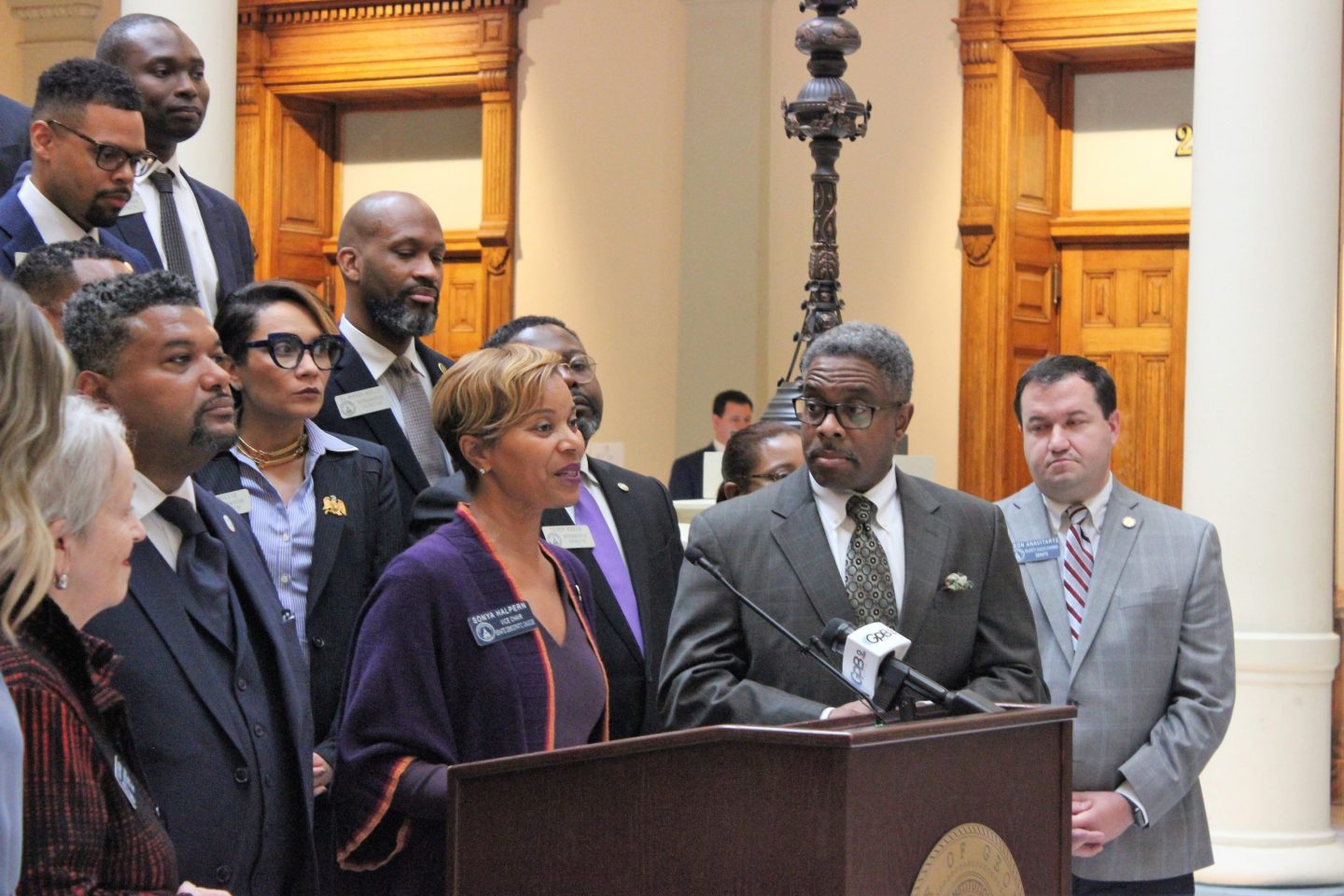 Georgia state Senator Sonya Halpern speaks during the Feb. 9, 2023, press conference. Southern Education Foundation President and CEO Raymond C. Pierce, who later spoke at the event, stands at her immediate right.