Untold Barriers for Black Students in Higher Education
2017 – In our pursuit to advance creative and promising initiatives that enhance institutional practices and student outcomes, the Southern Education Foundation's Minority-Serving Institution Consortium for Innovation and Change focused their attention on significant barriers to completion in higher education for Black students. This mission is aligned with SEF's broader commitment to identifying best practices and proven interventions that may better assist students from low-income families and students of color. This report specifically addresses developmental education (DE) (also known as remedial education) approaches that serve as major barriers and disproportionately impact Black students in higher education. It also addresses opportunities for success that are often overlooked.
"This report argues that many of the Black students who require DE have experienced a P-12 education that left them deficient in some areas. In order for Black students who require DE to succeed and persist to graduation, their time in DE cannot mirror that of their previous education experiences."
Participating Campuses: 
Claflin University
Morgan State University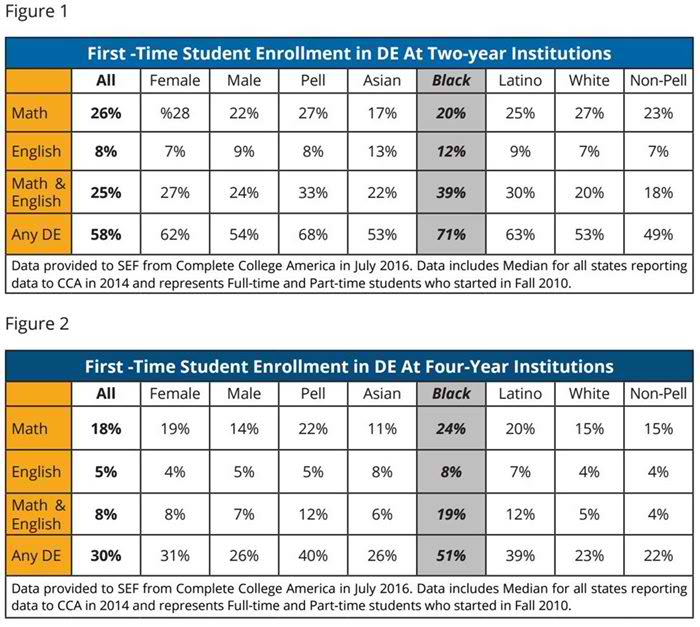 "Although DE is a higher education issue that affects students from all ethnic backgrounds, Black and Latino students are impacted the most…The path to DE does not begin in higher education, but is a byproduct of a number of factors students face before entering the higher education system."
Unique Angle:
As institutions across the nation seek to increase their completion rates, DE becomes increasingly important to meet this goal. For Black students, who make up a disproportionate percentage of DE students, the quality of DE is of critical importance. This report seeks to highlight the unique space that DE occupies where it can serve as a significant solution for students who may need extra assistance academically.
Key Findings:
Funding and support for DE innovation and improvement at HBCUs is a means to reduce the pre-college learning gap for Black students.
It is important to ensure that DE courses are varied and designed to meet the needs of differing levels of student preparedness.
Curriculum within DE courses should be culturally responsive.
DE students must have the support and encouragement of faculty, who must themselves be supported by the institution.
Acknowledgments
The Southern Education Foundation would like to thank the Andrew W. Mellon Foundation and Texas Guaranteed (TG) for their generous support of the Minority-Serving Institution Consortium for Innovation and Change: Developmental Education Initiative. We would also like to express our appreciation to Complete College America (CCA) for providing SEF with access to key data points that revealed the unique challenges encountered by students of color who are required to take developmental education. Last, but certainly not least, we would like to thank the two Historically Black Colleges and Universities who were active participants in this aspect of our project, Claflin University and Morgan State University. We appreciate your willingness to share your time, resources, and experiences, without which this initiative would have been impossible.
untold-barriers-for-black-students-in-higher-ed