By Sarah Glover, SEF Project Director, Outcomes Based Contracting 
At the Southern Education Foundation's first conference on Outcomes Based Contracting in K-12 schools, we shared lessons learned from four school districts that have embarked on outcomes-based contracts for math tutoring over the last year.  
OBC, or Outcomes Based Contracting, is the practice of making a significant portion of a payment to a vendor contingent on student outcomes. The four school districts–the Denver Public Schools in Colorado, Duval County in Florida, Ector County in West Texas, and Fulton County outside Atlanta–have established outcomes-based contracts over the last year for math tutoring, and they each shared lessons learned and their plans for next steps.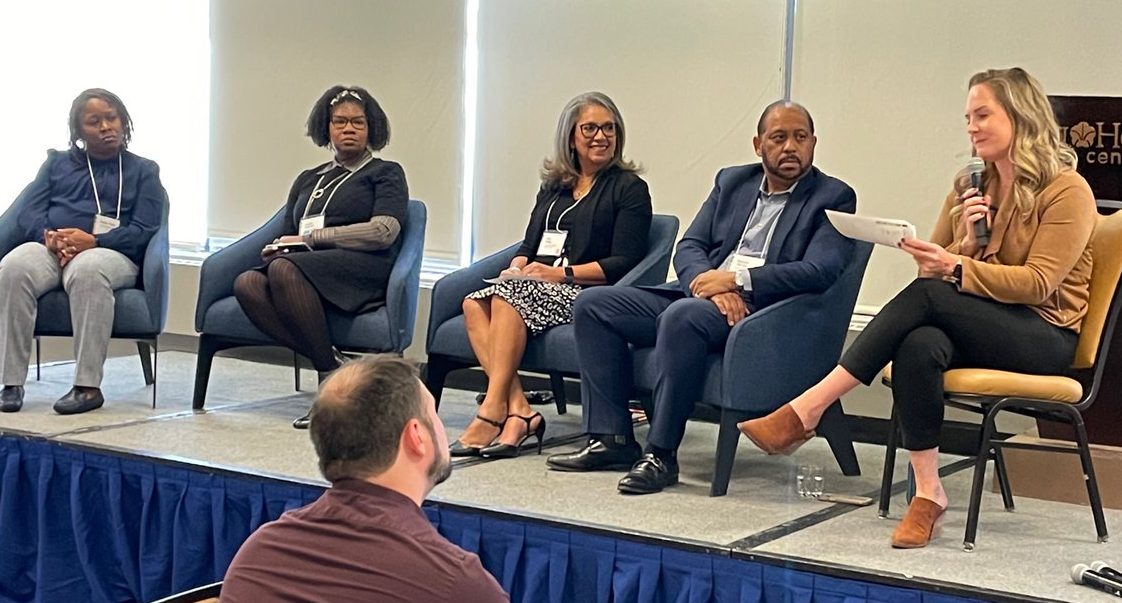 These districts worked together over the past year through SEF's first OBC cohort, but the October conference was the first time the leaders from these districts met in person. 
"To be in a group with others who were tackling the same issue or going on this journey… for school districts was (also) really, really appealing," said Bernard McCune of the Denver Public Schools, speaking on one of the conference panels. 
The concept of OBC means "holding vendors' feet to the fire, so we looked at it as a win-win for both parties," added Jasmine Walker, who oversees math instruction for the Duval County schools, serving about 130,000 students in Jacksonville, Florida.
The districts had each worked through the five key steps of OBC:
Prepare a team of leaders to guide the project

Identify the students they want to support and the outcomes they want those students to achieve

Develop a pricing strategy for the outcomes identified

Create an RFP and subsequent contract

Drive continuous improvement, carefully tracking implementation and results with the selected vendor. 
Building support for OBC projects
Ector County ISD Associate Superintendent Lilia Nanez said it was always important to reaffirm why they were pursuing the OBC approach. 
"They have to know the 'why,'" she said of the many people who were involved in creating outcomes based contracts in Ector County. Understanding the "why" helped the ECISD leadership team stay focused on their desired results: contracts with tutoring providers that deliver a portion of the payment only after student achievement goals are reached. 
Somewhat different than with traditional contracting, it's best when the district's legal and purchasing offices are involved from the beginning. "There were many drafts of the RFP," said Jasmine Walker, the director of mathematics for Duval County Public Schools, said with a smile. 
She reiterated that Duval County's success "boiled down to everyone having an awareness" of this new strategy. 
Duval County's OBC project will provide math tutoring for 1,200 eighth graders. Edmentum, the tutoring provider that won the bid, can earn up to $1 million for its work, but half of that–$500,000–will come only when the students make the achievement gains the district has identified. 
"There's a lot of learning that's going into this, but it's all good learning," Walker continued. "Now that we've done the work, I want to keep doing it."
Guaranteeing results
Leaders from all of the districts reflected on how the OBC changed the very nature of how they worked with vendors. 
"It's made our relationship with vendors clearer," said McCune, from Denver. "There is nothing more expensive than paying for outcomes that don't impact students," he said.
"We learned so many lessons together," Nanez said. "We learned what worked on our side; they learned what worked on their (the vendor's) side." 
When the bidding process began, some district leaders were concerned vendors might not bid on OBC projects. However, across the four pilot districts, 24 distinct tutoring providers responded to the RFPs, and no district had fewer than nine bids. 
Nanez likes how OBC helped ensure a higher quality pool of respondents. "If [the partner or vendor] doesn't understand or have confidence in their product, they need to go away," she said. 
Angelin Thompson, the director of extended academic learning for the Denver schools, concluded the discussion about school districts contracting with vendors: "You either have to lead or you're choosing to be led." 
Clearly, these four districts and the other districts, states and charter school organizations at the conference are choosing to lead. 
Interested in an OBC project in your state or school system? The Southern Education Foundation is launching its next Outcomes Based Contracting cohort in December. Find more information about this opportunity here. Please contact SEF's OBC Project Manager Brittany Miller–who formerly led OBC in Denver–for more information.
MORE INFORMATION:
Contact SEF for more information about using OBC in your school system.
At top of page: Sarah Glover opens the Southern Education Foundation conference on Outcomes Based Contracting.