Honoring Richard W. Riley with new book, celebration
By Alan Richard, SEF Director of Communications
GREENVILLE, South Carolina — At the age of 90, former U.S. Secretary of Education Richard W. Riley — "Dick" Riley to many here in his hometown and across the state — has a steady walk and still speaks with humility, wisdom, and hope for the future.
Hundreds of leaders, friends, and former colleagues of Riley's gathered Jan. 31 at Furman University, his alma mater and home to the Richard W. Riley Institute, to celebrate his recent birthday and a lifetime of service.
The occasion also marked the release of A People's Movement, a book on Secretary Riley's two terms as the governor of South Carolina and passage of the seminal Education Improvement Act (EIA), one of Riley's greatest accomplishments as governor and one the most significant overhauls of education in a southern state.
The book details how Riley and a passionate pack of educators and advocates pushed the wide-ranging law through the state legislature. The EIA raised the equivalent today of more than $1 billion a year for public schools. The legislation provided a blueprint for Georgia, Mississippi, North Carolina, Kentucky, and other states to make major new investments in education.
"The people's movement. … That's what it was all about," Secretary Riley told the audience on Jan. 31 at Furman University. "And that movement made a difference."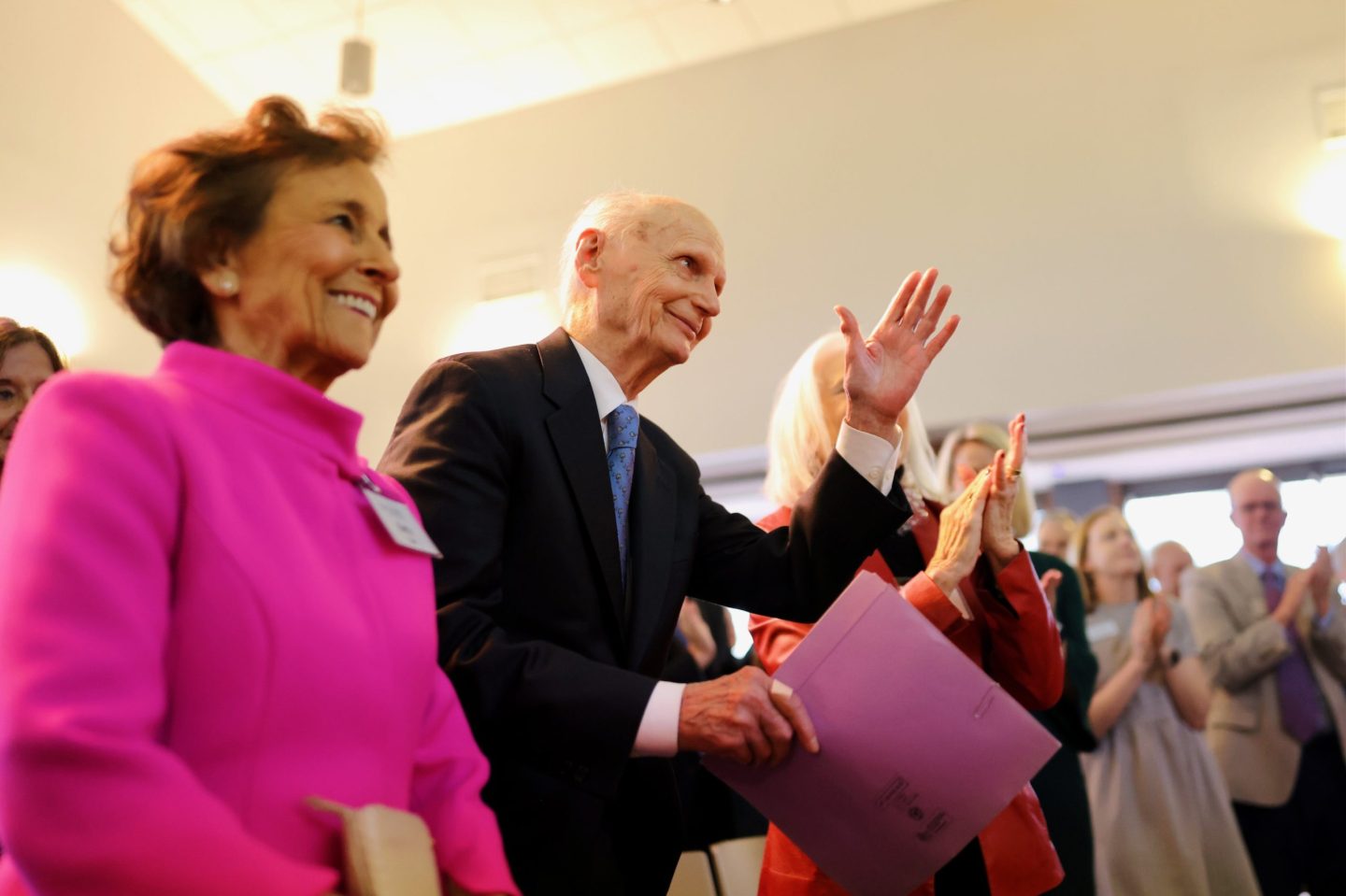 Photography courtesy of Jeremy Fleming/The Riley Institute
An audience applauds former U.S. Secretary of Education Richard W. Riley during events in his honor on Jan. 31 at Furman University in Greenville, South Carolina.
A major upgrade in education
The EIA's one-cent sales tax dramatically expanded pre-K programs in South Carolina and did the same for Advanced Placement, foreign language, chemistry, arts, and career-and-technical education courses. It also established gifted-and-talented programs, much needed pay raises and professional development for teachers and the Teacher Cadet program to inspire high school students to pursue teaching.
Thousands of educators, parents, business leaders, and others were personally involved in the EIA campaign, said Terry Peterson, a former Southern Education Foundation fellow who later joined Governor Riley's staff.
Only with Riley's mettle could such an important law have been pushed through. "It takes a tenacious leader. It takes a leader who brings out the better angels in all of us," Peterson said.
A People's Movement weaves together the history of EIA with interviews of people who helped pass the landmark education law. It's also a guidebook, with 25 key points today's advocates can use to bring people together and build a campaign for major new investments in education.
"People believed in what we were doing," Secretary Riley said. "It was really of interest to everybody."
Speakers here in Greenville shared how the changes impacted them personally, opening doors to college and other opportunities.
John Simpkins, who formerly taught political science at Furman and was the associate director of the Riley Institute, said the EIA funded new AP courses at Lexington High School and other programs that enabled a young man from a neighborhood called The Hill to attend Harvard. Later, he became a law professor and an attorney in the Obama administration.
Now the president of MDC Inc., a nonprofit organization based in Durham, N.C. that works to improve social and economic mobility in the South, Simpkins called Riley one of the nation's most consequential public servants. 
The EIA helped establish new governor's schools for advanced students across the state. Simpkins attended one at The College of Charleston, where he "learned how to dream — but also understood that we could realize those dreams."
A guiding principle for the EIA came from Benjamin Mays, the late Morehouse College president and South Carolina native, Peterson said: that there's no tragedy in not reaching your goal, but in not having a goal to reach.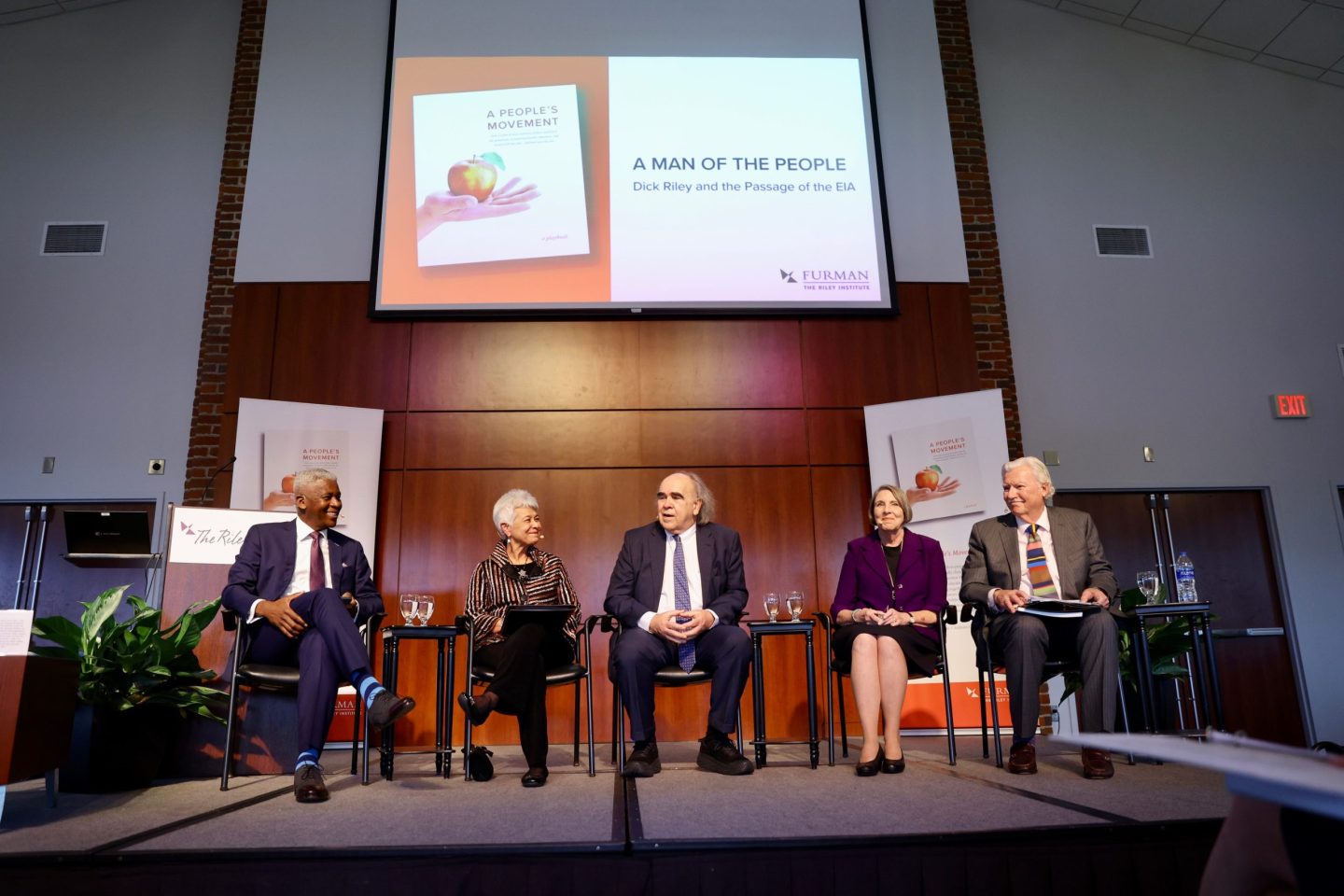 Photography courtesy of Jeremy Fleming/The Riley Institute
During a Jan. 31 event, a panel discusses how the 1984 Education Improvement Act moved education forward in South Carolina. From left: Moderator John Simpkins, Terry Dozier, Dwight Drake, Ginger Crocker and Terry Peterson.
Action was required
In the 1980s, South Carolina often ranked 49th or 50th in the nation on many measures of education, said Peterson, who became Riley's education director as governor and a senior adviser at the U.S. Department of Education.
Riley's staff held around 250 meetings about the EIA before it passed. Peterson would bring his children to nighttime meetings at the Governor's Mansion, where they enjoyed homemade chocolate chip cookies.
A fresh crop of state legislators arrived in Columbia — many of them young, short in stature, and strong in will — labeled "the Smurfs," in part for their naivety.
"They fought like tigers," Secretary Riley said proudly.
In 1983, A People's Movement author Robert Saffold was teaching history and American government in rural Marion County. He remembers riding on the school activity bus with other teachers, parents, and farmers from the remote Britton's Neck community to Columbia to advocate for the EIA's passage.
People decided to "work together as partners in our community, across sectors… strengthening our schools in order to build a stronger future for our state," Saffold said. "I really hope that the book conveys a semblance of the … possibility that we felt 40 years ago."
As governor, Riley led the state "in a full-on public conversation about what we wanted our public schools to be and what we wanted them to do," Saffold said.
The law would not have passed without direct guidance from the grassroots and grass tops, Peterson said. "Hundreds showed up at the State House daily," Peterson said.
So many teachers, mothers, and other supporters filled the hallways of the State House that most lawmakers could only find respite in the men's room, Peterson said with a laugh.
Terry Dozier, who joined Secretary Riley's staff in Washington after she was named national teacher of the year, witnessed the groundswell around the EIA while teaching world history at Irmo High School near Columbia in 1983. Now retired, she later became the director of the Center for Teacher Leadership at Virginia Commonwealth University in Richmond.
"Most reform efforts were done to teachers, not with teachers. … That's always a recipe for failure," Dozier said. "The EIA was different. We never felt that we were being blamed … and instead we were being asked, 'What do you need?'"
"Teachers were engaged from the very beginning, and it was clear policymakers were listening to us," she said.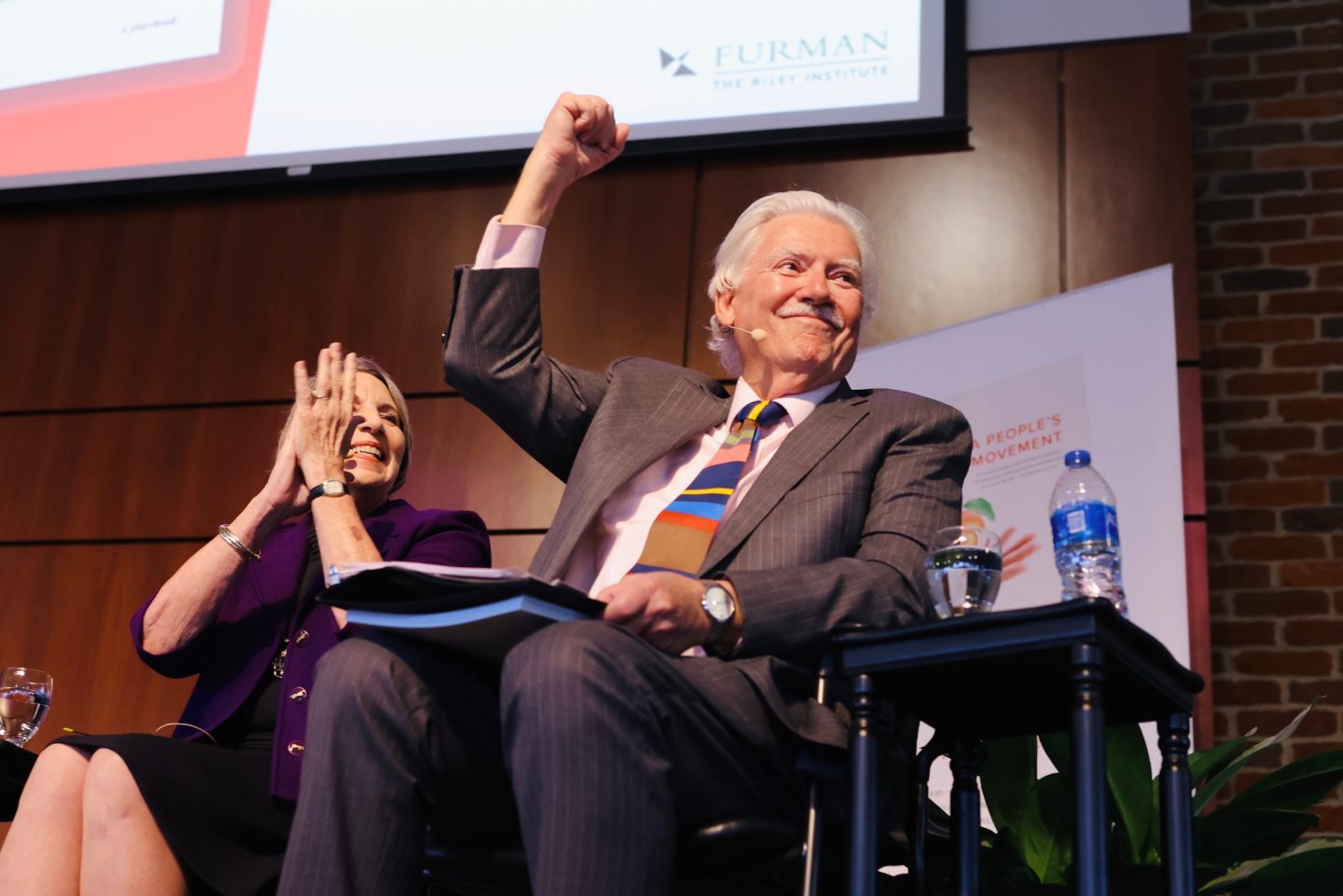 Photography courtesy of Jeremy Fleming/The Riley Institute
Terry Peterson, a former senior adviser to U.S. Secretary of Education Richard W. Riley during Riley's time as a cabinet member and as South Carolina governor, celebrates at a Jan. 31 event at Furman University in Greenville, South Carolina.
Right time for action
"What made the soil conditions right to take on something like this (the EIA)?" Simpkins asked a panel at the Furman event.
Dwight Drake, a fellow law partner with the former secretary at Nelson Mullins Riley Scarborough, was the governor's executive assistant for legislative and political affairs in 1983. He called Riley "the best damn governor South Carolina's ever had."
The landmark report A Nation at Risk had just been published in 1983, bringing "massive publicity and showed a lot of the public a lot of the real problems that public education faced everywhere," Drake said.
The nation was also recovering from a massive economic recession. Many leaders in the state had begun to realize "textile mills, tobacco, and cotton jobs that required muscle power were evaporating fast, and the only way the South could compete is if we start to develop (more) brain power," Peterson added.
Another Riley's initial one-cent sales tax proposal failed — its proceeds to be divided into thirds for education, tax refunds, and local governments — a businessman who'd opposed the plan told the governor he'd support it if all the revenue went to education. "By god, we made him own up to that," Drake said.
Riley decided to make the EIA and investments in education his absolute priority. "Without him devoting his entire energies almost exclusively to that legislation, it could not have happened," Drake said.
The EIA bill passed a key legislative committee by a single vote, largely because of Riley's credibility and influence as a former lawmaker, Drake said.
Riley wasn't the only southern governor who recognized how far his state's public schools were behind the rest of the country. Other governors, Democrats and Republicans alike, all agreed they needed to take serious action, Peterson said.
The EIA's sales tax initially raised about $250 million a year. South Carolina quickly saw  the nation's largest jumps in SAT scores, with the average for Black students soaring by 69 points in one year, Peterson said.
As a teacher, Dozier had seen the tremendous needs of many students and their schools. "Good test scores often mask problems with different subgroups and different individuals, and that was certainly true at Irmo," she said.
Expectations for students varied dramatically even across South Carolina. She recalled a student who'd excelled in a rural community, but whose grades dropped after moving to Dozier's suburban, more affluent school district. The student "had never really been challenged," Dozier said.
As governor and secretary, Riley spoke often of "the tyranny of low expectations," especially for students from impoverished families, with disabilities, or who were learning English. They "were written off in our schools," Dozier said.
"Some students had access to really rich opportunities," she said. "But many did not, and as a teacher I recognized … raising standards and expectations (alone) couldn't do the job."
Many states face a similar situation now. During the pandemic, just about every student experienced some level of isolation, stress, or even trauma — and lost considerable learning time. Some students were behind before the virus came along. New technology is transforming many jobs and workplaces at the most rapid pace in a century.
Teacher shortages in many places are especially alarming, Dozier said. "I never thought I'd live to see the day where we'd have shortages of elementary school teachers," she said.
Then there's the unrelenting focus on school vouchers that divert taxpayer money to private schools, often benefitting wealthier families and leaving public schools with even fewer resources.
Drake asked why some lawmakers were focused on vouchers that might reach 15,000 students, ignoring the remainder of the state's 800,000 students. "Quit majoring in the minor, and look at the bigger picture," he said.
There also are places like Florida where leaders "are using education as a tool to divide people over what's being taught in schools," Dozier said. "We need another movement of those who understand and support public education to counter that."
Voters need to "elect more people who care about the future of South Carolina and not just winning the next election," said Ginger Crocker, a former House member from Laurens County, and one of the "Smurfs" who supported the EIA.
"You're not solving the problem when you're just giving a little money here and there," Dozier added. "Education is not political. It's for all of our kids," she said.
Peterson believes there's a "big silent majority on education" — voters who want improvement and change, and who'd support major investments in the right areas.
A national expert on after-school and summer programs, Peterson cited polls showing about 85% of Republicans, Democrats, and independents agree on the need for high-quality after-school programs — and likely agree on education issues more than they realize. "It would be terrific if we would fight and win many education battles again in many states," he said.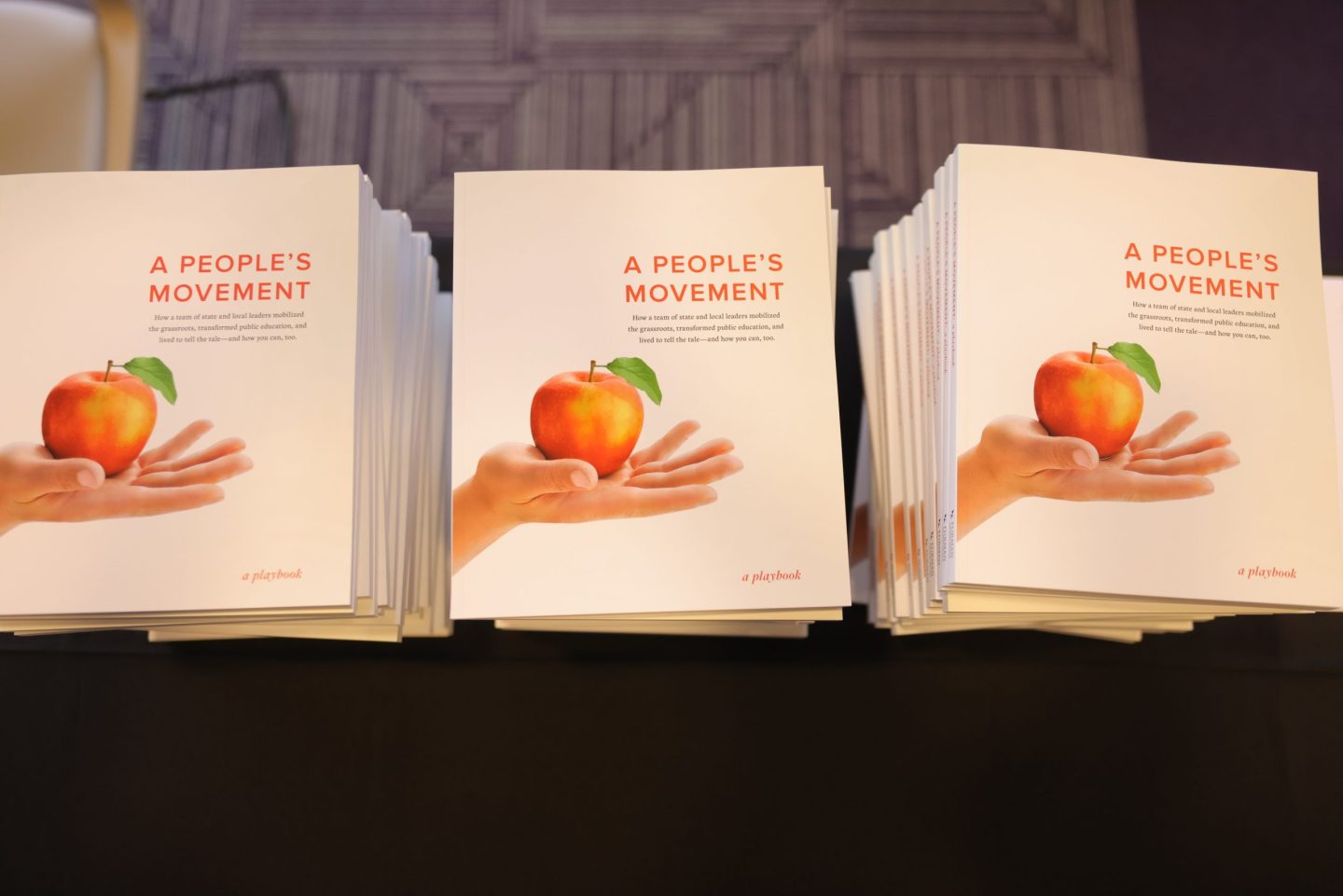 Photography courtesy of Jeremy Fleming/The Riley Institute
A People's Movement details how South Carolina passed the Education Improvement Act and outlines how today's leaders can build effective campaigns to improve public policy for the common good. 
Leaving a legacy
Don Gordon, the longtime director and a co-founder of the Riley Institute, said the former secretary continues to inspire and mentor many advocates even now. "Dick Riley has been the education governor of South Carolina, but as Bill Clinton said, he has been America's education governor," he said.
"And the reason why is, he's been so innovative and so effective in what he's done," Gordon said. He's "an inspiration to everybody who knows him," championing "initiatives that were related to family success."
The Riley Institute's Diversity Leaders Initiative has now served about 2,600 leaders who've enacted 350 community-action projects in the state. Public education — "as we all know, that's where Dick's heart lies," Gordon said — is also a major focus of the institute, conducting research, providing leadership programs for teachers, and more.
It's all blessed with "the amazing presence of Dick Riley, his integrity as a leader, his ability to bring people together," Gordon said.
"As you know I've been blessed with a long life," Riley told the audience at Furman, "blessed even more to have had so many, many friends — and I mean real friends. People who I literally love and who love me, and that makes life so important."
____________
A People's Movement will be available beginning Feb. 10 from the Furman University bookstore.
Photography courtesy of Jeremy Fleming/The Riley Institute
Former U.S. Secretary of Education Richard W. Riley is surrounded by former colleagues from the U.S. Department of Education. Southern Education Foundation President and CEO Raymond C. Pierce, who served under Secretary Riley in the agency's Office of Civil Rights, stands in the first row, third from left.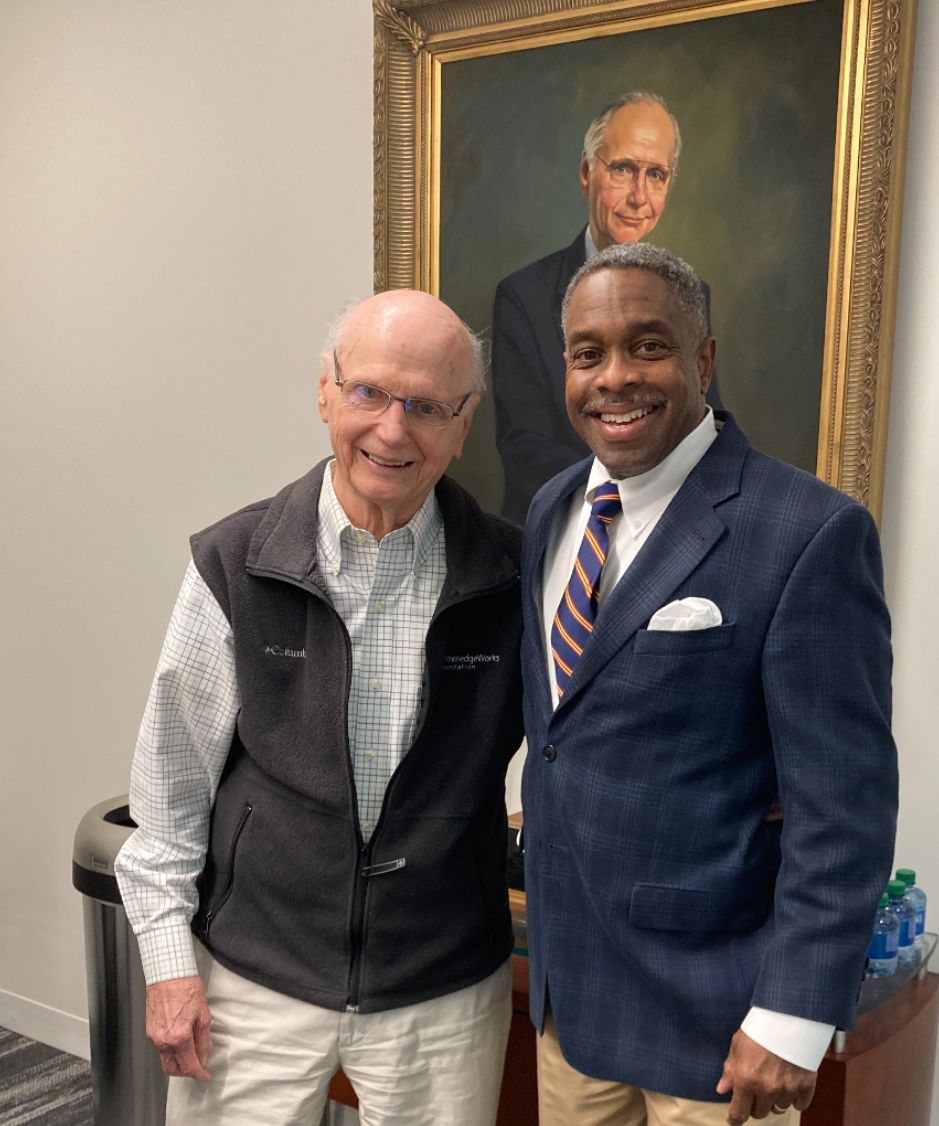 Former U.S. Secretary of Education Richard W. Riley and SEF President and CEO Raymond C. Pierce during a recent visit.